珠宝设计师: Wright and Teague(Gary Wright and Sheila Teague)

伦敦艺术大学授权广州招生代表处 | 2007-10-18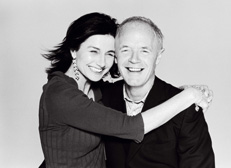 Cult jewellery designers and taste formers, Gary Wright and Sheila Teague met and studied at Central Saint Martins and formed one of London's most enduring creative partnerships. Wright & Teague distinctive and significant jewellery, launched in 1984, is designed with passion and artistic integrity, each piece imbued with a timeless spirit. Our Mayfair store opened in 1998.
All Wright & Teague jewellery is designed by Gary Wright and Sheila Teague, hand made in England, primarily in our own workshop and hallmarked by the London Assay Office to authenticate the purity of the precious metals. Diamonds are sourced according to United Nations protocol and the Kimberley process and are conflict free.
Ancient goldsmithing techniques are continuously challenged to express a contemporary aesthetic that appeals to the young and the old(er!), the fashion maverick, celebrities, industry leaders and discerning intellectuals; evoking and commemorating precious moments of love and life. Each piece of jewellery we design is intended to speak directly to the wearer, to become a part of their life and to have an emotive resonance.
The collection includes inscription pieces bearing legends from poems and songs that are personal to us and to our own relationship; these are engraved in very considered typography, including our own handwriting, onto rings and pendants. Each combination of charms contained within a necklace or bracelet is carefully balanced to achieve an aesthetic integrity. All styles are named, often from Greek and Roman mythology, with some inscriptions in Latin, evidence of a continuous strand of integrity in craftsmanship and design from ancient civilisations to our own studio and workshop.