著名女演员:泰娜·菲丝姬露 Tara Fitzgerald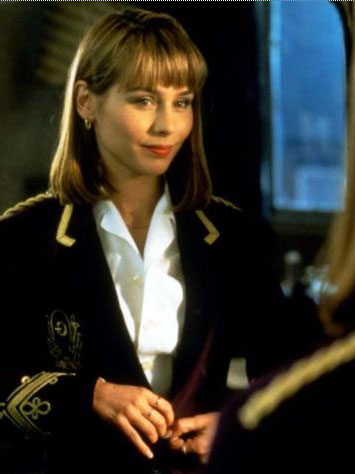 Tara Fitzgerald was born in Sussex, England, on 17 September 1967. Her mother, Sarah Fitzgerald is Irish and her father, Michael Callaby, was Italian. Shortly after her birth, her family moved to Freeport, in the Bahamas where her grandfather, David Fitzgerald, was a well-established lawyer. Her sister Arabella was born there, but the family returned to London when Tara was three. Her mother and father separated when she was four years old, and along with her mother and sister, Tara moved in with her uncle and Aunt Caroline in a basement flat off the Old Brompton Road in Clapham. Her mother married the Irish actor Norman Rodway when Tara was six, and the birth of her half sister, Bianca, followed shortly thereafter. Rodway and Sarah Fitzgerald separated when Tara was seven.
Tara's formative years were spent moving around - a lifestyle that saw her attending five primary schools while living in a variety of locations which included Glasgow, Dublin, and Stratford-upon-Avon. Eventually, Sarah and her three daughters returned to South London where Tara attended Walsingham (now Clapham) Comprehensive School, but she left at the age of 16 after passing her "O" level examinations, now known as the GCSE (General Certificate of Secondary Education) exams. Her reason for taking a break from the educational process was that she was not allowed to pursue her goal of attending drama school. Tara had auditioned for RADA and the Guildhall, but she was unable to secure a placement. She now recognizes that at age 17, she really had not been ready.
Tara spent the next two years working her way around Europe as a waitress, an experience that provided her with an improved perspective. When she returned to London and decided to audition for a place at the Drama Centre, she was accepted immediately. Her training at the Drama Centre leaned heavily toward method acting which she recalls was like one long therapy session of breaking down the ego, and then rebuilding it. (Other well-known actors who trained at the Drama Centre include Anthony Hopkins, Colin Firth, Simon Callow, and Pierce Brosnan.)
Life at the Drama Centre consisted of long days and hard work, but Tara recalls the time as being one of the best in her life. She was living at home with her mother, and working as a waitress at The Ark restaurant in Kensington to repay the bank loan which she had secured to cover her tuition fees. A theatrical agent noticed her performance in an amateur production, and arranged for Tara to audition for a co-starring role in the offbeat comedy Hear My Song. Tara was the first actress to audition, and after the director had seen another 300 young hopefuls, the role was hers. Two weeks after graduating from college in July, 1990, Tara was at work on a major film that turned out to be a surprise success, and generated rave reviews of her performance. Tara never looked back.
Starring roles in several successful television productions during 1991 and 1992 followed. Tara received critical acclaim for The Black Candle, Six Characters in Search of an Author, The Camomile Lawn, and Anglo-Saxon Attitudes. Her next major step was a co-starring role in the West End play, Our Song, where she acquitted herself nightly opposite one of the legends of the London stage, Peter O'Toole. This success was followed by a role opposite Hugh Grant in the Australian hit film, Sirens, for which the Australian Film Institute nominated Tara as Best Actress in a Lead Role.
An American mini-series, Fall From Grace, was followed by the Irish film, A Man of No Importance, which found Tara sharing honors with Albert Finney. Then came the two widely different television productions Cadfael: The Leper of St. Giles and The Vacillations of Poppy Carew.
Tara was back co-starring with Hugh Grant in The Englishman Who Went Up a Hill but Came Down a Mountain before she embarked upon another major change of pace by playing Ophelia opposite Ralph Fiennes in Hamlet on the London and Broadway stages. Ralph received the notoriety, but Tara received the award for Best Supporting Actress from the New York Critics Circle.
Tara's next success was co-starring with Ewan McGregor in the highly acclaimed comedy drama Brassed Off. Then it was back to BBC television for The Tenant of Wildfell Hall, The Woman in White, and The Student Prince, all of which were featured on the U.S. mainstay, Masterpiece Theatre. Tara's next theatrical film was Conquest, which was produced in Canada. Back on the British side of the Atlantic, Tara starred in the contemporary Little White Lies and the Daphne Du Maurier swashbuckler (also featured on Masterpiece Theatre) Frenchman's Creek, for which she received the award for Best Actress at the 1999 Reims International Television Festival.
A major part in the film Childhood (which, regrettably, has never been released) was followed by the harrowing role of a stalked woman in the psychological drama In the Name of Love. Radio dramatizations have included A Handful of Dust, Look Back in Anger, The African Queen, and most recently, Laughter in Leningrad.
Tara has been heard as the voice of the narrator in such diverse television mini-series as Wild Thing (Animal Life), The Final Day (Celebrity Deaths), Vice - Inside Britain's Sex Business (Self-explanatory), Reputations (Biographies), Omnibus: A Long Time Ago, The Story of Star Wars (TV Special), and most recently, The Changemakers.
You also will hear Tara's great voice doing radio and television advertisements for products ranging from Johnson's Facial Wipes to Norwich Union Insurance.
Tara's recent cinematic appearances have included co-starring with Rutger Hauer in New World Disorder, and starring opposite Rhys Ifans and Joseph Fiennes in Rancid Aluminium.
During this period, Tara appeared on stage in the title role of Antigone, and as Blanche Du Bois in A Streetcar Named Desire.
In 2001, Tara appeared as the female lead in the World War II drama, Dark Blue World, a Czech film by Academy Award winning director Jan Sverák (Kolya). She currently can be seen on the big screen in I Capture the Castle, a romantic comedy based upon the 1948 novel by Dodie Smith (101 Dalmatians).
Tara's recent television work has included a starring role in Echoes, a segment of the highly regarded psychological drama series Murder in Mind. She also played the leading female role in Love Again, a dramatization of the life of British poet Philip Larkin, which was telecast on the BBC in July.
Tara has completed work on Secret Passage opposite John Turturro, a period drama which is set in Venice during the Spanish Inquisition, and Five Children and It, a family adventure film based on Edith Nesbit's classic 1902 novel, which is was released in the U.K. on October 22, 2004.
During the late winter and early spring of 2004, Tara completed a very successful tour of the United Kingdom playing the role of Nora Helmer in A Doll's House, for which she received high critical acclaim. In the fall of 2004, she began a tour in the role of Mara Hill in a new comedy Clouds, by Michael Frayn.
During her career, Tara has picked her roles cautiously, always seeking to play the role of a strong woman. She feels that playing characters who have weak and insipid parts do not provide her with the motivation that the role of a strong woman can deliver. She has been remarkably successful in a variety of genre ranging from historical costume dramas (The Woman in White, The Tenant of Wildfell Hall, and Frenchman's Creek), to contemporary psychological suspense dramas (Little White Lies and In The Name of Love), as well as comedy dramas (Brassed Off and Conquest), and offbeat comedies (Sirens and The Vacillations of Poppy Carew). Her fine performance in the World War II drama Dark Blue World and her recent work on stage give further evidence of her acting versatility.
演出经历:
1.《黑暗之地》In a Dark Place AS …… Ms. Grose (2006)
2.The Agatha Christie Code AS …… Herself (2006)
3.The Evening Standard British Film Awards AS …… Herself (2005)
4.《图书馆女尸》Marple: The Body in the Library AS …… Adelaide Jefferson (2004)
5.Secret Passage AS …… Clara (2004)
6.《我的秘密城堡》I Capture the Castle AS …… Topaz Mortmain (2003)
7.Love Again AS …… Monica Jones (2003)
8.Celebrity Naked Ambition AS …… (archive footage) (2003)
9.Being Simon Cowell AS …… Narrator (voice) (2003)
10.This Morning Episode dated 9 May 2003 AS …… Herself (2003)
11.《烈日长红》Tmavomodrý svet AS …… Susan (2001)
12.Rancid Aluminium AS …… Masha (2000)
13.New World Disorder AS …… Kris Paddock (1999)
14.Childhood AS …… Angel (1999)
15.The Snatching of Bookie Bob AS …… Silk (1998)
16.Frenchman's Creek AS …… Lady Dona St. Columb (1998)
17.Conquest AS …… Daisy MacDonald (1998)
18.Little White Lies AS …… Beth Marsh (1998)
19.The Woman in White AS …… Marian Fairlie (1997)
20.《奏出新希望》Brassed Off AS …… Gloria (1996)
21.The Tenant of Wildfell Hall AS …… Helen Graham (1996)
22.《情比山高》The Englishman Who Went Up a Hill But Came Down a Mountain AS …… Betty (1995)
23.The Vacillations of Poppy Carew AS …… Poppy Carew (1995)
24.《相约在今生》Sirens AS …… Estella Campion (1994)
25.A Man of No Importance AS …… Adele Rice (1994)
26.Fall from Grace AS …… Catherine Pradier (1994)
27.Galleria AS …… Marie (1993)
28.Six Characters in Search of an Author AS …… Emily (1992)
29.Hear My Song AS …… Nancy Doyle (1991)
30.The Black Candle AS …… Victoria Mordaunt (1991)
31.The Camomile Lawn (1992) AS …… Young Polly
32.The Virgin Queen (2005) AS …… Kat Ashley
33.The Final Day (2000) AS …… Narrator (voice)
34.Like Father Like Son AS …… D.I. Harkness
35.In the Name of Love AS …… Zoe Walters
36.The Student Prince AS …… Grace
37.Anglo Saxon Attitudes AS …… Young Dollie Stokesay