英国女演员:海伦·迈克雷 Helen McCrory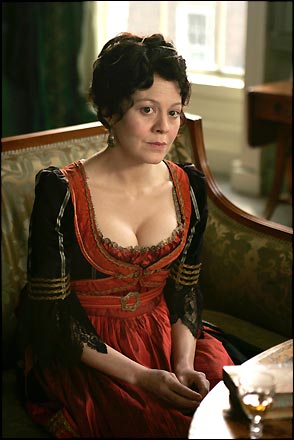 The award-winning actress Helen McCorory trained at the Drama Centre, London. She began her career on stage in the UK. She won the Manchester Evening News Best Actress Award for her performance in the National Theatre's "Blood Wedding" and the Ian Charleson award for classical acting for playing Rose Trelawney in 'Trelawney of The Wells'. Helen's theatre work has continued to win her critical praise and a large fan base through such work as the Royal Shakespeare Company's "Les Enfant du Paradis" opposite Joseph Fiennes, Rupert Graves and James Purefoy. At the Almeida theatre her productions have included "The Triumph of Love" opposite Chewital Bjiofor and the radical verse production "Five Gold Rings" opposite Damian Lewis.
Helen has also worked extensively at the Donmar Warehouse playing lead roles in "How I Learnt to Drive", "Old Times" directed by Roger Michel, and in Sam Mendes' farewell double bill of "Twelfth Night" and "Uncle Vanya" (a triumph in both London and New York). For her performance in "Twelfth Night", Helen was nominated for the Evening Standard Best Actress Award, and the New York Drama Desk Awards.
Helen also found time to found the production company 'The Public' with Michael Sheen, producing new work at the Liverpool Everyman, The Ambassadors and the Donmar (in which she also starred).
With over twenty productions under her belt, Michael Coveny recently wrote 'We celebrate the careers of great actors Olivier, Ashcroft, Richardson, Gielgud, Dench, the Redgraves, Gambon, Walter, Sher, Russell Beale and McCrory'.
On the small screen Helen's first television film, Karl Francis' "Street life" with Rhys Ifans, won her the Welsh BAFTA, Monte Carlo Best Actress Award and the Royal Television society Best Actress Award, for her extraordinary performance as Jo. The Edinburgh Film Festival wrote 'simply the best performance this year'.
She went on to win Critics Circle Best Actress Award for her role as the barrister Rose in the Channel 4 series "North Square", having been previously nominated for her performance in "Fragile Heart". Helen has shown her diversity as an actress, appearing in comedies such as "Lucky Jim" with Stephen Tompkinson or "Dead Gorgeous" with Fay Ripley as well as dramas such as Joe Wright's "Charles II", (for which she was nominated for the LA Television Awards), "Anna Karenina".
演员:
1.《哈利·波特与凤凰社》Harry Potter and the Order of the Phoenix AS …… Bellatrix Lestrange (attached) (2007)
2.《女王》The Queen AS …… Cherie Blair (2006)
3.Messiah: The Harrowing AS …… Dr. Rachel Price (2005)
4.《爱无可忍》Enduring Love AS …… Mrs. Logan (2004)
5."The Sex Inspectors" AS …… Narrator (Series 2-) (2005-) (voice) (2004)
6.Sherlock Holmes and the Case of the Silk Stocking AS …… Mrs. Vandeleur (2004)
7.Carla AS …… Carla (2003)
8.The Making of 'Charles II' (2003)
9.Does God Play Football AS …… Sarah Ward (2003)
10.Lucky Jim AS …… Margaret Peel (2003)
11.《新基督山伯爵》The Count of Monte Cristo AS …… Valentina Villefort, the Chief Magistrate's Wife (2002)
12.Dead Gorgeous AS …… Antonia Ashton (2002)
13.Deep Down AS …… Dana (2002)
14.Dickens AS …… Kate Dickens (2002)
15.《乱世有情天》Charlotte Gray AS …… Francoise (2001)
16."In a Land of Plenty" AS …… Mary Freeman (2001)
17.Hotel Splendide AS …… Lorna Bull (2000)
18.Hotel Splendide AS …… Lorna Bull (2000)
19."North Square" AS …… Rose Fitzgerald (2000)
20.Split Second AS …… Angie Anderson (1999)
21.Spoonface Steinberg AS …… Mother (1998)
22.Dad Savage AS …… Chris (1998)
23.The Fragile Heart AS …… Nicola Pascoe (1997)
24.Trial & Retribution AS …… Anita Harris (1997)
25.The James Gang AS …… Bernadette James (1997)
26.Witness Against Hitler AS …… Freya von Moltke (1996)
27.Streetlife AS …… Jo (1995)
28.《夜访吸血鬼》Interview with the Vampire: The Vampire Chronicles AS …… Whore #2 (1994)
29.Charles II: The Power & the Passion (2003) AS …… Barbara Villiers, Countess of Castlemaine
30.Anna Karenina (2000) AS …… Anna Karenina
31.The Jury (2002) AS …… Rose Davies
32.Stand and Deliver AS …… Christina