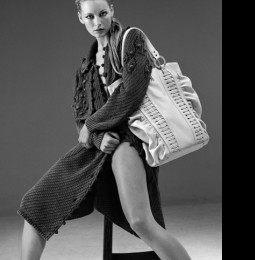 Johanna Ho graduated from London Saint Martins with both Undergraduate and Masters Degrees in 1997. Her graduation show was highlighted by the London Times Fashion Editor Iain R. Webb (now Fashion Director of UK Elle) as one of the top new talents of the year. Soon after graduating, Johanna launched her own signature label in 1998.
Her first Ready-to-Wear collection was shown at London Fashion Week and subsequently bought by Barneys NY, Browns in London, and Via Bus Stop in Japan. Johanna's Ready-to-Wear collection continues to be well-received internationally and is stocked in leading select shops and department stores in the United States, England, France, Hong Kong, and Japan.
Johanna draws on both her western training and eastern influences to design collections for the modern woman that can be dressed up or down depending on the occasion. The heart of the collection is an innovative knitwear group that combines the finest Italian yarns with interesting silhouettes and new weave techniques. The knitwear is complemented with a focused woven group infused with subtle details such as interesting pockets and buttons, embroidery, and one-of-a-kind printed linings. Johanna has debuted a leather Handbag and Shoe collection for the Autumn/Winter 2003 season. Embossed leathers, printed linings, and unique shapes combine to create a statement that is about contrast and individuality. The result is a sensual and versatile collection providing innovative ideas season after season.
For more information about Johanna Ho or her company please email: enquiries@johannaho.com